Homes in Lone Tree, Colorado
Lone Tree was recently ranked among the top 10 places to live in the United States. The Douglas County community is anchored by the Lone Tree Golf Course designed by the legendary Arnold Palmer, providing a fair test of golfing skills for players of every ability level. The Lone Tree Arts Center hosts a variety of musical and theater productions each year, in addition to dance and school programs for grades K-12. The Bluffs Regional Park is a 253-acre grassland park with gorgeous views of the majestic Rocky Mountains and 3.5 miles of multi-use trails. Other outstanding amenities include two junior Olympic-sized swimming pools, private tennis courts, a basketball court, a mini-soccer field, and multiple parks and playgrounds.

The community hosts a July 4th fireworks display, block parties, wine tastings, and more. The Park Meadows "Retail Resort" provides one-stop shopping for nearly everything imaginable, from sporting equipment to elegant upscale clothing at Nordstrom's, Macy's and other high-end stores. Lone Tree is also distinguished by a wide variety of homes ranging from elegant condominiums to majestic custom mansions.
List of Zipcodes
| Zip Code | Zip Code Name | Zip Code Population |
| --- | --- | --- |
| 80124 | | |
| 80134 | Parker | 75,123 |
Demographics
| | Zip Code | City | County | State | National |
| --- | --- | --- | --- | --- | --- |
| Population | 4,270 | — | 351,154 | 5,759,582 | 331,426,769 |
| Population Density | 49.4 | — | 1,167.0 | 55.5 | 93.8 |
| Percent Male | 49.0% | — | 50.0% | 49.0% | 49.0% |
| Percent Female | 51.0% | — | 50.0% | 51.0% | 51.0% |
| Median Age | 50.8 | — | 41.0 | 40.2 | 39.0 |
| People per Household | 2.6 | — | 2.9 | 2.8 | 2.6 |
| Median Household Income | $106,904 | — | $114,156 | $115,942 | $61,963 |
| Average Income per Capital | $52,013 | — | $61,155 | $50,725 | $33,235 |
Market Data
| | Zip Code | City | County | State | National |
| --- | --- | --- | --- | --- | --- |
| Median Sale Price | $725,000 | — | $550,500 | $425,100 | $277,796 |
| Median Age of Home | 37.0 | — | 33.0 | 39.0 | 49.0 |
| Homes Owned | 86.0% | — | 77.0% | 67.0% | 58.0% |
| Homes Rented | 10.0% | — | 18.0% | 23.0% | 31.0% |
| Homes Vacant | 5.0% | — | 4.0% | 4.0% | 11.0% |
Market Trend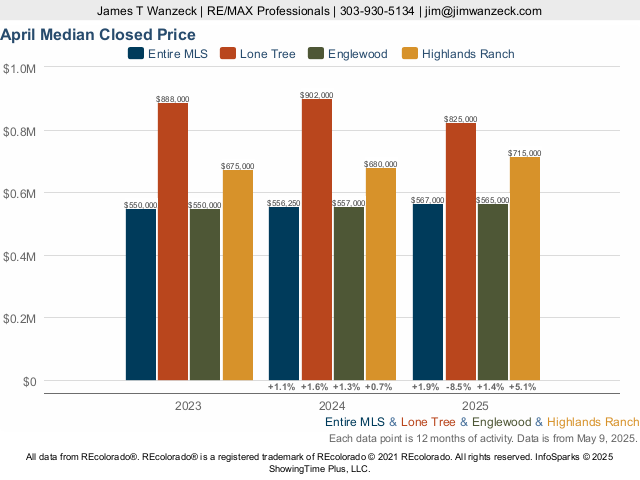 28 properties on market
Contact Us
RE/MAX Professionals
6020 Greenwood Plaza Boulevard
Greenwood Village, CO 80111, USA
Valuation Index
Quality of Life - 90%
Climate & Environment - 75%
Schools & Education - 73%
Safety & Crime - 17%
Walk Score®
Schools & Education
Safety & Crime
Zip Code
City
County
State
National

Violent Crimes

Calculated annually per 100,000 residents

Assault
162.9
—
69.5
246.3
250.2
Murder
2.2
—
2.2
3.8
5.0
Rape
70.4
—
33.6
67.2
42.6
Robbery
123.3
—
19.2
63.6
81.6

Property Crimes

Calculated annually per 100,000 residents

Burglary
223.7
—
230.1
348.4
340.5
Theft
360.4
—
1,794.6
1,858.3
1,549.5
Motor Vehicle Theft
603.0
—
88.7
384.0
219.9
Take a photo of this QR code
to keep this website details